Hello Pinkyies! My favourite e-commerce brand
Althea Korea
has finally launched their own makeup products after so many of their own brand products like
Althea Bare Essentials
(
review
),
Petel Velvet Powder, Skin Detoxer
(
review
) and many more!
They have been my favourite because they always give back to the consumers, like a lot of offers, promotions, discounts, and of course, creating unique products like great skincare and cosmetics products for their fans! That is why I am so excited for their new range of makeups because I swear it's going to be super good, and most importantly, super affordable!
I'm so glad I'm part of the Althea Angel Community where the bloggers from the community gets to try out the products once it's launched. Here I have products from Flawless Concealers, Waterproof Lip Tint, super pretty eyeshadows and glitters, and one of the best invention for acne-prone skin like mine, the Spot Film Gel.
Without further ado, let me introduce all the products and how amazing they are! Do read it till the end cause there is a video of me using them for my CNY look! Yes I basically use them all on my CNY holiday everyday!
#1. Skin Relief Spot Film Gel (15ml)
Have you ever feel that sometimes your foundation or concealers will ruin your acne-prone skin or dry skin after you apply them onto your face? But all you want is a
flawless-glowy-healthy looking skin
with these makeups on, and you hope that there is a
protective barrier
held between your skin and the makeups so that your skin wouldn't be ruined, best is if the product could work to heal your problematic skin at the same time!
To be honest, I do have this thought before, especially when I'm going thru the time of the month where my acne starts to throw a rave party on my face
(and they sing "It's a party on NicoleYie's face~)
. But now,
Althea's Skin Relief Spot Film Gel
is here to the rescue!
Say bye-bye to bulky, unsightly pimple patches and hello to flawless skin!
This acne spot treatment helps to
protect the spots area
on your skin by becoming the protective barrier, allowing makeup to be applied on without a trace, and effectively soothe and treat the troubled area at the same time.
It dries down
from a clear gel texture to a thin layer of translucent patch
onto the skin, leaves skin smooth and protected, perfect for makeup application. Unlike normal acne patches out there, it is
easily customizable
by adjusting the thickness and size of the patches applied.
Ingredients
It contains tea tree oil that quickly and effectively treat acne with its antibacterial properties,
Centella asiatica extract that helps to calm redness and strengthens the skin, and
Pine leaf extracts to repair and calm irritations with antioxidant.
Usage Direction
Apply a thin layer onto targeted areas and allow to dry for approximately 5 minutes.
Ensure the patch is completely dry before applying makeup on top.
Another thing I like about this product is I can peel off the film layer with the makeups on without needing to remove the makeup directly on my problem areas with my makeup removers or wipes!
My Opinion
Honestly out of the whole box of products that I received from Althea this time, this is one of my most-look-forward product to try out because I really want something to protect my pimples or acne when I have to conceal them with makeup products.
Maybe I put too much expectation on it, because turns out it wasn't my most favourite item that I use in this year. Perhaps the way I use is incorrect (like I put too much product and it's not thin enough to last longer), so throughout the day some patches will come off (especially at places like my chin area where the skin tend to move a lot) and I look horrible with some weird patches hanging on my skin (like a zombie). Worst part is I will try to peel it off and I look even worst cause I have a patch of skin with different colours because my foundation/concealer came off together.
I wouldn't say this is a complete bad product, but I wouldn't dare to risk using it when I will be facing many people that day. I will only use it if I really have a big painful acne coming out. I haven't really got the chance to see the effectiveness on my acne yet (cause lao niang this month has lesser pimples woohoo)
Rating: 5/10
Product Price: MYR19
#2. Flawless Creamy Concealer (6g)
A concealer with
Flawless + Creamy = I'm excited!
because for my current skin (and eyebags) condition, I can go out without foundation but not without concealers!
Any concealer-junkies please show some hands!
And
I can already tell this concealer is going to be really high coverage from the name itself!
The
Althea Flawless Creamy Concealer
is a pigmented concealer with
buildable coverage
and
semi-matte finish
. The buildable coverage blends effortlessly into the skin using any applicator you desire (fingertips, brushes or sponge puffs). The buildable formula is made with
Aquaxyl
to
moisturize
and improve the overall health of the skin, while its
long-wearing properties
ensure it stays on your face all day.
This range of concealer comes in 4 different shades that's most suitable for asian skin like mine!
#01 Vanilla (Pink beige #21)
#02 Ginger (Warm ivory #21)
#03 Honey (Warm peach #23-#25) - my skin tone
#04 Mocha (Deeper yellow #30)
I tend to use
a shade lighter
from my skin tone for my
undereyes
to brighten up my eye area from those dark panda eyebags. From this range is
#02 Ginger.
The
best shade to my current skin tone
is
#03 Honey
. I'm so glad that it blends into my skin like there is nothing!
You can even use this creamy formula for
highlighting and contouring
the face as well depending on your skin tone. Here I picked the lightest shade of the range #
01 Vanilla to highlight
, and the darkest shade
#04 Mocha to contour
. So creamy texture works so well on any part of my skin!
My Opinion
Super.In.Love!
I really
love the coverage and texture
of this concealer. I have been using it and I barely wear foundation now since my true concern is to get rid of my post-acne scars. The shade #03 Honey is very perfect to my skin. Even though it keeps on emphasize on the word 'Creamy' in it, but to me, it's not as creamy as how I think it is, it's still consider liquidy which I like it more as it's easier to blend with and not so heavy. The concealer does give a
smooth finish
, but I always top it with the Petal Velvet Powder to prevent it from melting because I have oily skin.
Rating: 9/10
Product Price: MYR15 each
#3. BCL X ALTHEA Eye Palette: Sunrise & Moonrise
Coming to one of the biggest product of this range - the
first eyeshadow palette
from Althea and also a collaboration product of Althea with
an Indonesian singer and actress -
Bunga Citra Lestari (BCL).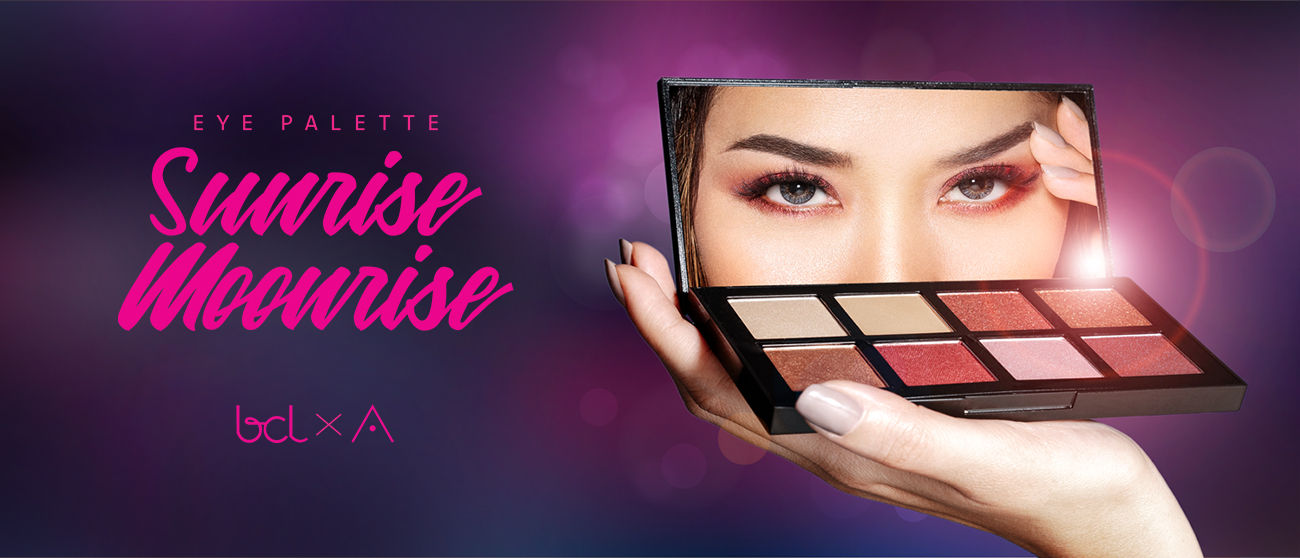 The
Sunrise & Moonrise Eyeshadown Palette
contains
8 expertly chosen shades
inspired by 2 of BCL's most prominent looks:
A fresh look perfect for everyday

, and
A

glamorous look perfect for the stage

.
Close up look on the pigments, all of them are only swiped on for maximum 2 times!
These 8 shades will take you
from gorgeous daytime to sultry night time
, giving you the effortlessly glamorous feminine style Bunga is known for.
In
shimmers, mattes and glitters
, these pigmented shadows
glide easily onto the skin
and blend out like a dream, allowing you to create an array of looks suitable for any occasion.
Besides, the shadows contained
long-wearing formula
that blends easily onto the lids for bold pigmentation, and has
easy-to-use color combinations
- it's just a perfect makeup application!
Check out my most usual way of using the colours from this palette:
I applied them with my finger and really love the smoothness of the shadows!
Pardon me for the messy eyebrow I have here!
My Opinion
I do think this palette is an
all-in-one palette
. Aside from the case where it doesn't comes with its own brush, it has a
huge mirror
and
all the colours you need
. The basic colours like the brown (#5) and white (#1) is all I need for my work everyday, and some glittery gold (#4) to enhance the look for a night or weekend outing.
I thought I would love the pink colour the most but turns out the gold (#4) caught my heart the most! I would say this is the most outstanding shade among the others. From the eye look I made above, I really love how the gold match with the pinkish eye colour.
I'm not a person who has high demand on eyeshadows, but I really think this is a perfect eye palette with really pigmented and catchy colours such as the Gold and the Hot Pink (#6).
Rating: 8/10
Product Price: MYR140
#4. Spotlight Eye Glitter (4.5ml)
At first I wasn't really feel like trying on this glitter liner because some other brand's glitter liner has given me a bad experience 👎. But! Yes I have a but, it means I'm going to tell you this
Althea Spotlight Eye Glitter
is actually quite nice to use, which is also the only glitter liner I would use on a daily basis!
Honestly the precise brush applicator is where I worried the most because I always ruined my drawing with this (not sure why). I will never use black liner that comes with this kind of applicator. But yes, thanks to this product once again, I'm getting used to this applicator now.
This sparkling eye glitter product has a
hydrating formula
that
glides on like butter
over the lids, allowing for an
easy blend to
. It can be doubled up as both an eyeshadow and a liner to light up the eyes for some perky, glamorous peepers. Don't wait too long for it to dry though, as they do set down quickly and making them
long wearing
and
virtually budge-proof
after.
Not sure if you have seen this kind of famous eyeshadow look where people tend to apply whole pigmented glitter in the middle of the eyelid for a really popped look. This glitter can definitely be used like this because it dries out very quickly on the skin, it doesn't ruin the eyeshadow that you're having!


And I'm sorry about my messy eyebrows once again.
My Opinion
As you can tell, I really like this product because it's not like those
transparent gel with glitters kind of glitter liner
that I used to try before. I was really impressed that this product
sets into the skin quicker than I expected
, which makes me use a lot of th
e Gold Light shade as my cheek bone highlighter,
and
Pink Light shade on the inner corner of my eyes
as to brighten up my eyes.
This product do contains a lot of shine in it and it reflects! I do hope to see more different colours in the future, like
blues and
purples
that able to give a unicorn or mermaid look with is slight chrome effect! I would keen to do more makeup looks if they ever launch more colours for this glitter liner!
Rating: 7/10
Product Price: MYR24
#5. Watercolor Cream Tints (4.5ml)
Most beauty junkies love to collect lip products so be hold, here is the first lip colour product by Althea -
Watercolor Cream Tint
. It is a
long-wearing
yet
hydrating
lip tint with
bold colour
and a
glossy sheen
.
A precise, slim tip allows for versatile looks and can be used for sharp defined lines, or a soft, chic gradient.
These pretty tubes give you the
best of all worlds
with
the pigmentation of a lipstick,
the long-wearing power of a stain and
the moisturizing formula of a gloss.
Beside's, these lippies contain hyaluronic acid and squalene to
prevent chapped lips
from flaking.
Look at these colours! Such a pigmented lip tint, but still can see a slight creamy texture that feels hydrating!
My Opinion
Not sure about you but does any of you think that these 4 shades looks almost the same from the bottle packaging? The biggest difference I can tell is only #02 strawberry cream because it has an orange tone, while others are more of a blue tone together.
I personally feel that dark colours (like #01) and nude tone (like #04) doesn't look good on me in general. So I think the best shade for me among these 4 colours is #03 as it is nearest to pink colour, but sometimes it still looks pale on me due to my skin tone.
I would hope to see some lighter shade like pink colours in the future and it will definitely be my daily to go as this cream tint is really
long lasting and moisturizing
. However the applicator is not something that I like becasue the tip is a little bit too long, it grabs too much products every time I dipped in, that is why you can see my application from the above image is quite messy.
Rating: 6/10
Product Price: MYR20 each
Wearing #03 Peach Cream here.

And finally I'm done with all the products review here! So grateful to be able to hands on to try out all of these products and share my thoughts, thank you Althea!!
As promised, here's my makeup video of my using the products so you guys would know how it works thru a video!
So will you guys try on any of these products? To be honest most of them are seriously affordable! I would definitely recommend the
Flawless Creamy Concealer
and the
Spotlight Eye Glitter
.
And if you haven't already sign up with Althea, here's a
referral link
for you to receive
additional 20% off
on your first purchase at Althea's website!
For more information, kindly visit:
Website: http://althea.kr
Facebook: http://www.fb.com/altheakr
Instagram: @altheakorea
Disclaimer: Product was sent to me for review purpose. All opinions and thoughts expressed are solely my own and based on my personal experiences and preferences. Results may vary on different person.